Model 280
ID Reader Combined with Digital Imaging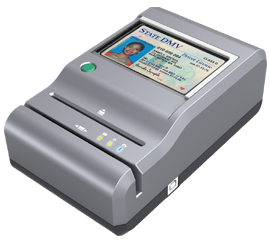 About M-280
The E-Seek Model M280 allows for the reading and capture of all electronic data while concurrently providing the ability to scan and capture a complete image of both sides of an ID Card or License.
The Model M280 reads all data from both the 2 Dimensional Barcode (PDF 417) and the Magnetic Stripe utilized on ID cards and Drivers' Licenses. In addition, the ID card or license can be positioned on the scratch proof glass lens of the Model M280, and with the simple press of a button, a full high resolution image (JPEG) of the ID is captured and attached to the data stream. With the ability to quickly and easily marry the Electronic data to the Image, the Model M280 provides a capability that is being required by an increasing number of applications.
Age Verification
ID Authentication
Casino/Gaming
Check Cashing
Credit card/POS terminal
Automatic Data Entry
Police Patrols
Vote systems
Border control
Law Enforcement
Kiosks
Visitor/Lobby management
Access control
Passenger check-in
Department of Motor Vehicles
Club/VIP/Royalty card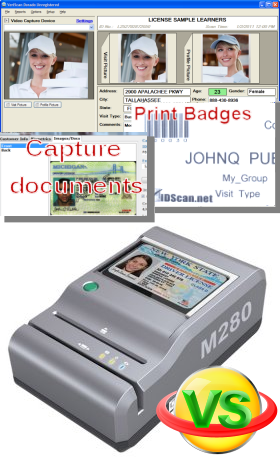 IDScan.net
Age Verification - Data Collection - CRM
VeriScan - access control, visitors management, fraud prevention and data capture application for desktop computers and servers running Windows OS.
Effective and easy to operate ID processing database software with ability to capture photo image via connected camera. Collect, update and maintain your visitors' records with easy interface. Export data in multiple formats, print badges, save log entries and set up custom alerts.
Reads most cards, including Government issued Driver's Licenses and State IDs (from all States and Canadian provinces)
Store and manage profile AND visit image
Multiple entry alert message (ID velocity check) with custom time frame
Collects/maintains customers' info such as name and mailing address
Creates/exports log in multiple formats with exact time information
Customer category Manager (VIP, Black list, etc)
Design and Print Visitor badges
Ability to password protect options/settings/reports/export
Electronic Signature support(signature pad required)
Print Visitor badges (using Dymo LabelWriter 450 printer)
Upload ANY type of document (including video) for each Visitor profile
Support for M280 to capture ID images
The program is universal for almost any industry where tracking demographics and attendance is required.
Private clubs, casinos, gyms, special event organizers and others will appreciate quick set up and hassle free operation.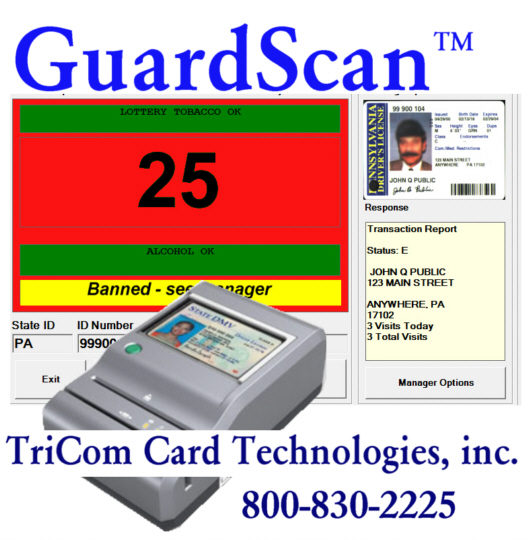 GuardScan™
Any time you need to verify and/or authenticate identification, GuardScan™ may be the Security Solution. GuardScan™ can meet your security software needs, and provide daily, weekly and monthly activity reports with Images from the New E-seek M280.
GuardScan™ is the latest technology providing superior ID scanning, data collection or Age Verification for your business, from simple electronic verification to advanced levels of ID validation and reports. GuardScan™ features the E-seek ™ M280 the newest commercial quality ID Scanner hardware which decodes the magnetic stripe, 1-D and 2-D barcodes, and returns an image for verification. Engineered for fast law enforcement, government, military, industrial, commercial and retail use, GuardScan™ provides sophisticated ID Reading and Security systems for all levels.
GuardScan™ is compatible with leading sources of law enforcement and public safety hardware and software. It has been approved by the Texas Alcohol and Beverage Commission (TABC) and may work effectively with your current system. It qualifies as a "transaction scan device" as defined under §109.61 of the TABC Alcohol Beverage Code.
GuardScan reads USA and Canada Government issued Driver's Licenses and State IDs.
Special request for reading, Credit Cards, Gun Permit Cards, or Other documents with our Custom programming available.
Holds Customers name, address, and any notes you need to enter on their account.
See LAST scan date, and HOW MANY VISITS instantly upon any scan.
ZOOM in up to 400-XXX Times to see MICRO PRINT and other Security features on the ID!!
Associate documents with each visitor scan.
Capture visitor data and images in memory for you to manage. (Prevent Charge Backs!!)
Our Pass back feature alerts you to ID's being used by more than one person.
Our Customer visitor management screen allows you to Print Visitor badges.
Print Visitor badges on ANY printer
Pre-register Visitors, and create "Authorized Visitor" lists for your lobby.
Captures up to 3 images for any ONE Transaction! (ID, Credit card, Vip card or Other?)
Our Customer management screen allows you to TAG or UN TAG VIP's, or Banned customers.
Password protected settings for protecting access to some data.
Manually enter data from any card after taking the Image or Images, of any card or document. (passport)
Made for Police Cars, to check ID's on the road.
SEND Images to your Law Enforcement Database for a response.
Used for Private Clubs, Health clubs, Liquor Store, Public Safety, and any other Public Visitor application.
Exports or can interact with data to other programs. (OR Public, or Gov, Databases as in Law enforcement cases)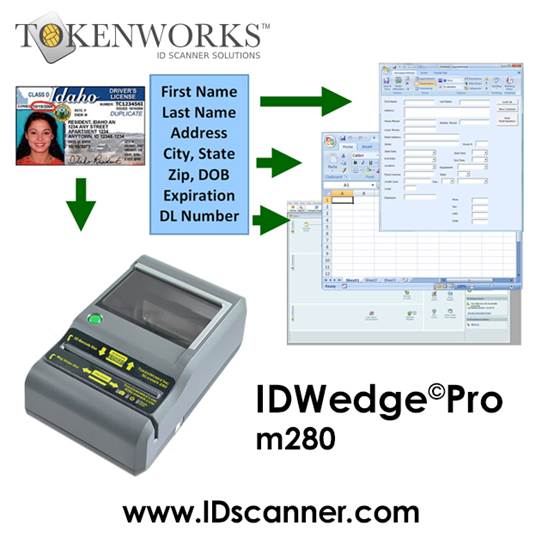 Tokenworks™ | IDscanner.com
The IDWedge®Pro scans driver's licenses, ID cards, credit cards, and more, auto-filling multiple computer forms with card information.
Building on Tokenworks™' industry-leading data entry solution IDWedge®, the IDWedge®Pro adds new features like the ability to fill multiple forms on the same computer, capture images of the card (using m280 hardware), pause command to synchronize dataflow, advanced magnetic strip parsing, 1D bar code parsing, and date/time stamp fields. The Tokenworks™ IDWedge®Pro automatically recognizes and populates forms in multiple PC applications, allowing different applications to share the same ID scanner, and works with any PC application that accepts keyboard input.
Tokenworks™ IDWedge®Pro m280 Features
Recognizes different forms and adjusts AutoFill formula
Runs in the background and can fill multiple forms simultaneously
AutoFills virtually all computer forms that accept keyboard entry
100% accuracy of ID card data entry
Captures card images to PC folder
Lightning fast – capturing data in just 1-2 seconds
Simple drag & drop configuration
Automatic software updates with no annual fees
Handles all types of magnetic strip cards, from driver's licenses to military IDs, to payment cards.
Tokenworks™ IDWedge®Pro Benefits
Reduce data entry errors
Helps detect fake IDs
Improves customer service
Captures customer images
Chargeback protection
No software development
Barcode Reader
| | |
| --- | --- |
| Readable Codes: | PDF 417 linear barcodes (Code 39, Code 128) |
| Sensor Type: | Linear CMOS array |
| Illumination: | Red bar LEDs |
| Scanning Area: | 36 mm x 80 mm |
Magnetic Reader
| | |
| --- | --- |
| Number of Tracks: | 3 track head |
| Formats: | ANSI, ISO, CDL, AAMVA standard |
| Read Direction: | Bi-directional read capability |
Optional & Accessory Items
Performance Characteristics
Trigger/Capture:
PC software or push button switch
Card Operating Mode:
Hands-Free, Manual Insertion / Magnetic Stripe Swipe action
Interface:
USB 2.0 Full speed for Barcode & MSR data (w/FTDI drivers, Windows certified)
USB 2.0 High speed for Imager
Image:
BMP/JPG (892 x 564 pixels), 272 DPI
Indicators:
Power/Busy/Scan LEDs & Beeper for decoder
Connectors:
USB Port Type B
Physical Characteristic
| | |
| --- | --- |
| Dimensions: | 4.5" L x 7.2" W x 2.7" H |
| Weight: | 0.94 lb |